"To know and share God's love"
Kia mau, kia uru te aroha o te Atua
Chartwell Cooperating Church (St Alban's) has been a cooperating church of Anglicans, Methodists and Presbyterians since the early days of the Chartwell suburb. We seek to blend these Christian traditions in both worship and life and welcome people with different understandings of the Christian faith.
We hope that Chartwell Church will be a place to grow in your faith and to make new friends who can encourage and support you in life. Our ministers are people with whom you can talk frankly about any particular concerns. We hope you will explore the opportunities we offer and in the process we're sure you will find the Parish has a warm and welcoming atmosphere.
Rev Chee Keong Yong
Minister
Chee is the Anglican appointment to the Chartwell Cooperating Church ministry team. Chee joined us on the 1st November 2015 after spending five years in ministry in Sydney.
Rev Sharon Ross Ensor
Part time supply Minister
Sharon Ross Ensor is a Presbyterian minister who has served congregations in Auckland (Remuera) and Wellington (Eastbourne and Wadestown). More recently she worked in a national church role as the Director of the Presbyterian Church Schools' Resource Office. She is married to Brian, a palliative care specialist, and they have two young-adult children.
Sharon began her half-time role as supply minister at Chartwell Cooperating Parish in February and her work includes co-ordinating the Insight service.
Keri Anderson
Parish Administrator
The role is a busy one, coordinating the many and varied activities and groups, as well as the "nuts and bolts" of a vibrant and busy church. Keri is the first contact person and can help with, or direct, any enquiries as required.
Brad Clarke
Facility Supervisor
Our Chartwell Church facility is very well used by the Church and community. Brad or Keri are your first point of contact if you wish to view our facilities or make a booking. Brad liaises with the Property Committee and facility users and helps with the running of the Parish.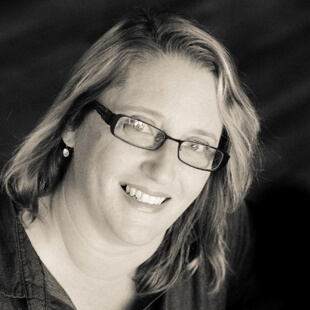 Amanda Bowcott
Family and Youth Worker
Amanda is kept busy organising the many young people's activities, from Mainly Music on a Friday morning to the YACC (Youth at Chartwell Church) group on a Sunday Night. Amanda organises Sunday School and Youth Group activities, the Light Party, Movie Nights, Messy Church and all the wonderful events our young people so much enjoy.
Brad Clarke
Family and Youth Worker Assistant
Brad has joined Amanda in organising and working with the children and youth. Brad brings with him experience and many wonderful ideas. He is full of energy and has a great sense of humour. Brad is also studying at the University of Waikato.
Megan Penney
Before and After School Care Co-ordinator
Megan has been involved in the Before and After School Care programme for 10 years; the last two as Co-ordinator. She runs a great programme and loves working with the children. For more details about Before and After School Care please contact Megan on 027 678 7307 or go to https://www.chartwellchurch.org.nz/ministries-and-support/
Parish Council is the group who are elected to administer and manage Parish life as oversight of the Church. They meet on a monthly basis.
Parish Council Chairperson: Carol Webb
Parish Council Deputy Chairperson: Seddon Polglase
Secretary: tba

The following committees are responsible for creating a smooth and efficient working environment for the parishioners, the ministry team and staff. Each committee is accountable to the Parish Council.
Conveners:
Worship – Sharon Ross Ensor
Finance and Administration Committee: Erica Harris
Property Committee: Seddon Polglase
Health and Safety:
Pastoral Care and Support: Rona Gooch
Overseas Missions: Gillian Woodward
Healing Group: Merlene Woolerton
If you would like to know how to become a member of a committee please contact our office on 855 7434.
St Alban's parish was first an extension of St Aidan's Anglican parish, Claudelands. It began in a church hall, built on the corner of Comries and Herbert Roads to serve the new suburbs of Queenwood and Chartwell. It was then the only community building in the area. In 1966, a core group of local Christians from Anglican, Methodist and Presbyterian backgrounds decided that if they worked together in one church, pooling resources, they would then provide a natural focus for Christian worship and action in the neighbourhood, and so combined worship began. This concept was in accord with the growing enthusiasm in the national churches for progress towards unity. It was in this context that Chartwell Church became a reality. Community use was encouraged from the beginning: Plunket, kindergarten, indoor bowls, flower shows. There were active women's and youth groups, a large Sunday School and a Spring Fair.
Because of the need for more space, in 1973, the Anglican building was moved to the large Methodist site on the corner of Comries Road and Bellmont Avenue, Chartwell, and with Presbyterian funds was greatly extended. In June 1975, the parish was reformed under national guidelines as the Co-operating Parish of St Alban's, Chartwell and in July, St Mary's, Gordonton [ex Cathedral Parish] became part of the Cooperating Parish. They are now a stand alone Parish again. From 1977 – 1983, the Rototuna Methodist Church was also part of the Parish. Ministry through the years has been provided, from each of the denominations. As a response to continuing church growth and needs of the community, the church complex has been enlarged, altered and added to a number of times. In 2000, the completion of a new worship centre gave additional space and more flexible possibilities.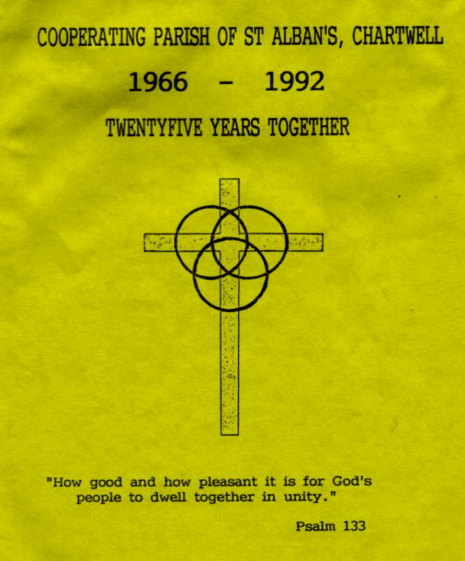 Chartwell Cooperating Church (St Alban's) has been a cooperating church of Anglicans, Methodists and Presbyterians since the early days of the Chartwell suburb. We maintain these links with our parent Church bodies, which provide guidance, direction and a rich source of information and history.